Do Outdoor Rugs Ruin Deck? (Things You Need To Know)
You've dropped a lot of money on your outdoor patio and deck. You are so happy that your backyard is nice enough to host parties and cookouts for all your friends. You love watching the kids play hide and seek under tables and chairs and as they run towards the fence line.
But then, you start to notice that the outdoor rugs are staining your deck. What should you do? Should you remove your outdoor rugs? Will outdoor rugs ruin your beautiful deck?
Outdoor rugs does not ruin the deck instead it acts as a barrier and protection against the harsh sun, mist, and other environmental conditions. Also, they guard the wooden deck against scuffs and scratches.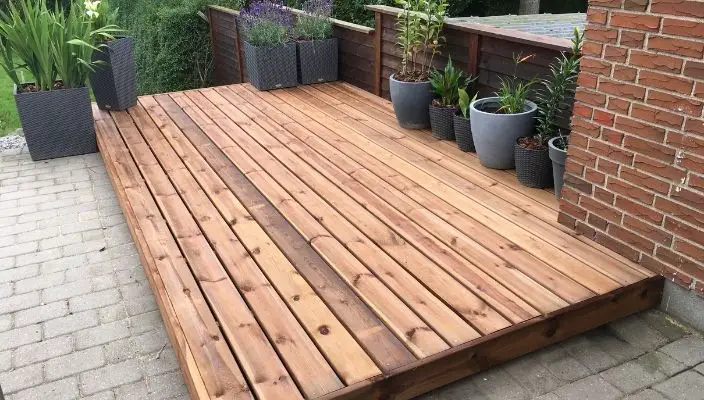 Your deck can look more attractive and welcoming if you make use of beautiful outdoor rugs. These rugs are available in various different sizes, vibrant colors, and materials. They can completely change the look of your deck and make it more alive and usable. 
Outdoor rugs can be used on concrete, grass, Mulch and also over wooden decks. 
Benefits Of Using Outdoor Rugs On Wooden Deck
There are various benefits of using outdoor rugs  on wooden decks. We are mentioning each one of them as per the following:
1. Protect Decks
Your wooden deck is better protected when there's a rug over it to keep the sunrays, dust, mist and all other environmental elements at bay.  
2. Long-Lasting
Outdoor rugs are made up of tough material that are long lasting too! So, if you are planning to cover your deck with rugs then it will not be a costly thing. 
3. Adds Beauty To The Place
Beside being protective these rugs have vibrant colors and designs. As rugs capture more area of your outdoor space it can add extra beauty to the outdoor place with its vibrant colors and designs.
4. Endless Design Options To Keep Your Place Updated
These outdoor rugs come in plenty of variety. Whether it is color, shape, or texture, all the variants are available with plenty of manufacturer brands in the market. Choose the one that goes perfectly well with your decor and outdoor furniture. You can keep your place updated with recent designer outdoor rugs because these are easy to spread and are cost-effective. 
5. Easy to maintain
The material the outdoor rug is made up with, requires very low maintenance and is generally spill proof and scratch proof. They are also washable which make them a perfect fit for your outdoor deck as you will need it to enjoy your parties and need not worry about the spill and the heavy foot traffic. 
6. Cost Effective Solution To Keep Outdoor Area Look Fresh And Alive
The outdoor rugs are a  cost effective solution to cover your wooden deck and protect it against dust, scratch, stains and spillage. So, you can keep your backyard, deck, or patio updated with the latest designs and textures and keep it feel fresh and alive that too in your budget.
Will An Outdoor Rug Damage A Composite Deck?
Most outdoor rugs will do fine with composite decking. But if you are shopping for an outdoor rug, choose carefully. Some rugs are made of materials which may stain or discolour your floor.Don't use outdoor rugs which have metal accents; they can rust and can leave stains on composite decks. Also avoid the rugs which are backed with latex or rubber; these rug types also may damage your composite deck.
How Do You Secure An Outdoor Rug on a Deck?
Most of the time there is a possibility of the outdoor rug getting slippery because of no proper cushioning towards the Deck. But it can be totally avoided by securing it with some anti skid rug pad, or carpet adhesive. You can also secure the outdoor rug with the tables or planted plots or chair or some other furniture. Keeping something heavy on the rug will not allow it to move and get slippery. To avoid any kind of disaster it is very important to secure an outdoor rug on a deck.
Frequently Asked Questions 
Can you leave outdoor rugs outside on the wooden deck?
Outdoor rugs are often waterproof and can be cleaned easily with soap and water. So, you can keep an outdoor rug outside on the wooden deck without worrying about the harsh environmental condition. 
These stain proof outdoor rugs can be kept outside on the wooden deck for a longer time as they can even withstand rain. You will just need to dry it afterwards to avoid any kind of moulding on the outdoor rug. 
Can you leave an outdoor rug out all year?
Outdoor rugs are designed specially to keep outside. And the materials used for outdoor rugs are tough, water resistant, durable and also can be cleaned thoroughly if they get stained with soap and water.
For these many reasons you can leave an outdoor rug out all year. It will get a little dull when kept all year round in the outside deck, backyard or patio because of harsh environmental conditions. But by that time it will be the time to buy a new one and change the outside decor.
Can you leave an outdoor rug outside in the rain?
Yes, you can leave the outdoor rug outside in the rain if they are water resistant and are made up of any of the materials like nylon, polyester or olefin. All these materials do not change their shape or color in the rain. And dry out quickly afterwards if kept in the open area like terrace or balcony. 
But always make sure once it gets wet do not store it wet indoors. Always dry the rug completely and then only store it to avoid any kind of mould formation. 
Conclusion
Your outdoor rug will not damage your deck instead it will protect it. You can make use of an outdoor rug for your deck to make it more beautiful, long-lasting, maintenance-free, and keep it updated with the latest decor designs. You can leave the outdoor rug all round the year.
Outdoor rugs are water resistant, so you can be worry free about the rain. However if you want to keep it safe so as to keep it strong and beautiful for a longer time you can fold and store it only after drying thoroughly .