Can You Leave Outdoor Rugs in the Rain? (5 Wet Proof Rug Materials)
You're on your way out when you step onto the wet, soaked rug. You freeze in your steps for a few seconds before you pluck up the courage to walk back inside. "Should I leave the rug out there?" you ask yourself. "Is it okay to leave outdoor rugs in the rain?"
The indoor and Outdoor rugs are completely different and outdoor rugs are more tough and rigid than indoor rugs. Outdoor rugs are generally made up of material that can suit the outdoor environment. They can withstand mist, harsh sun, and heavy dust but can they withstand rain too? 
Depending on what type of strand woven rug you have might depend on how the weather affects the rugs appearance. If you have a tightly woven rug and are worried about what will happen if you let it get wet outside, don't be.
The only thing that can occur is that your rug will not look as nice for a while until it dries out. When water does get on the rug it tends to bead up and just run off the material. Having water on your rug for extended periods of time will cause the dye to dull and become lighter. However, outdoor rugs dries quickly, so water will generally not sit on it for long.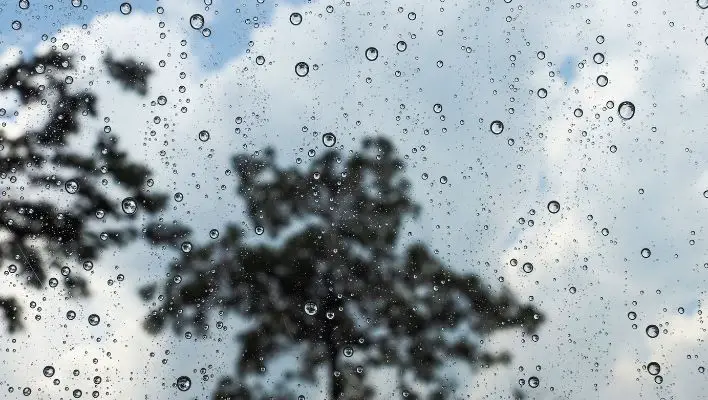 So, we are mentioning a few of the rug materials that can withstand even the heavy rains.
Rug Materials That Can Withstand Rain
Do you want to know which rug materials can withstand rain and best for exterior use? If yes, continue to read on.. Here you can know about Different Rug Materials that can withstand rain.
1. Polypropylene 
Polypropylene is the best material for rugs because it is not only durable but also light and can withstand rain. This is a light weight material. Unlike bamboo which is heavy and doesn't easily give away moisture. However, polypropylene requires a very little time to dry out and maintain its structural strength. 
If you want to keep your rug completely safe from the rain then you can also fold it and store it, as it is lightweight and easily foldable.
2. Eco-Friendly PET
These rugs are made from polyester derived from recycled plastic bottles!  By choosing a rug made from recycled Eco-friendly PET, you are helping the environment. Not only is it better for the environment, but PET rugs are more affordable, easy to clean, and reversible.  They are durable and easy to clean with water as well as can withstand rain.
3. Polyester
With its best qualities from both Polypropylene and PET, this outdoor rug is the perfect combination of strength, light weight, and affordability. This rug material also can withstand mild to moderate rain. But you should always dry the outdoor rug after rain because otherwise there are chances of molding.
4. Blends like 85% polyester / 15% polypropylene
Blends like 85% polyester/15% polypropylene offer a tremendous advantage over many other outdoor rugs. The beneficial qualities of both materials in the blend give you everything you look for in an outdoor rug at a price you can afford. Because of its unique qualities, this rug can enhance your outdoor space, adding depth and texture to your room.
5. Nylon
When looking for a good outdoor rug to use in the backyard, patio or deck, choose a product made from nylon . Nylon is durable, easy to clean, colorfast, and stain-resistant fibre. It can withstand rain and snow all year long. 
Can Rug Pad Withstand In The Rain?
Both the Classic and Cushioned Rug Pads consist of a 100% recycled polyester surface and a thermoplastic rubber bottom, which is a latex-free, biodegradable and water proof material, treated with a patented drying process to create an odor-free pad suitable for use in outdoor area like deck, backyard and patio. Because of its material, rug pads can withstand rain without getting spoiled or slippery.
Outdoor Rugs Dos And Dont's
In this section, I'm talking about the do's and don'ts of choosing a nice outdoor rug to decorate your outdoor living area.
Do's
Always choose a rug style and color that complements your outdoor furniture to have a beautiful set up of your own to enjoy with your family and friends.
Make a use of rug pads to avoid outdoor rug to get slippery
While buying make sure, you are buying a perfect shaped outdoor rug that fits in the space where you want to spread it. 
Make sure it is waterproof so that you will not need to wind it up for every little drizzle.
Don'ts
Do not use indoor rug as a outdoor rug
Do not go and shop for the outdoor rug without measuring the dimension of the area where you want to place it.
Do not let it remain wet for a longer time as it may start molding, dry it out by flipping sides to avoid molding.
Conclusion
You can keep the outdoor rugs that are rainproof in the rain without getting worried about them getting ruined. Just make a wise choice while selecting the outdoor rug and check the material to ensure it is rainproof.
Some of the materials used for making outdoor rugs that are rainproof are Polypropylene, Eco-friendly PET, Polyester, and blends like 85% polyester and 15% polypropylene. So, choose outdoor rugs made of these materials and get rid of all your worries about the rain!