Do Outdoor Rugs Dry Quickly? (Fast Drying Rug Materials)
The ultimate question in the mind of a person contemplating a purchase of an outdoor rug is: "Will it dry quickly after it gets wet?"
This is asked by people who have just experienced their normal outdoor weather pattern while traversing their patio or even worse, having water splash up on them from their lawn sprinkler.
Almost all outdoor rugs are made of synthetic materials which are not as absorbent as natural materials. This means that outdoor rugs of synthetic material dry quickly and are fairly resistant to dirt and stains.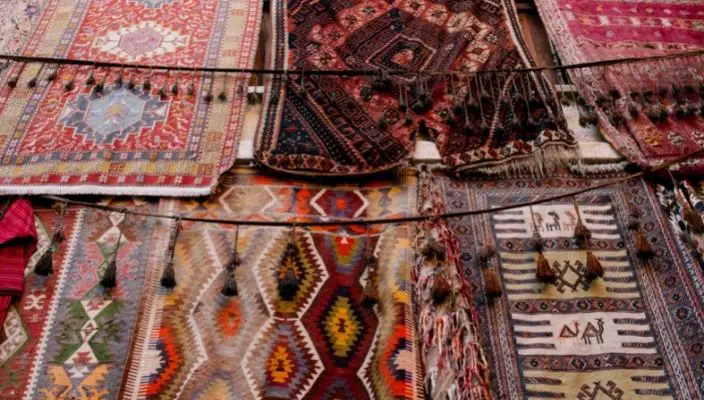 There are a variety of products available in outdoor rugs. But it would help if you always go with the material that can dry quickly. Hanging the outdoor rug for every minor spillage is not a feasible option, especially when it is a very big-sized outdoor rug.
Damp and wet rugs often seem to get mold, not because of the material type but because of the dirt and the moisture present in them. It is essential to dry outdoor rugs when they get wet completely in sunlight by hanging them on the balcony railings or the open terraces.
To choose which rug is best for your needs, think about what the main activity is going to be on it. For example, if you've got kids and pets running around outside, you'll need a quick-drying outdoor rug that can cope with spills and dribbles.
Rug Material That Dries Quickly
There is a wide variety of materials used to make outdoor rugs, and they all have different properties in regards to drying time. The following is a list of the best materials to use if you are looking for durable outdoor rugs that dry quickly.
Nylon
Nylon is the first choice for modern outdoor rugs. Besides durability, nylon is very easy to maintain and can dry quickly. Nylon carpets are suitable for all seasons and give great comfort to your feet.
Polyester
Polyester rugs are a trendy option that offers superior quality at an affordable price. This rug type also dries quickly. Polyester rugs quickly dry because they are not as dense as wool or natural fibers.
They are ideal for outdoor use during the fall and winter months.
Olefin
Rugs made from olefin materials can dry quickly. Olefin rugs are durable; they are best suited for outdoor use where moisture resistance is necessary. The finish on olefin rugs is often very smooth, giving your feet a feeling of ease.
Best Way To Dry An Outdoor Rug
One of the best ways to dry a rug is going outdoors under direct sunlight. When you dry a rug in the sunlight, you force the moisture out of the fibers, causing them to shrink and dry. Allowing rugs indoors isn't ideal for indoor air quality & it doesn't really get mold out, it just dries the fibers.
Consider The Weather
When deciding on outdoor rugs type, it is important to consider the weather conditions. If the weather is rainy or cold, then the rug will take a little longer to dry. But some rugs dry much faster than others in cold or rainy weather too. This is why choosing a rug that is lightweight and breathable is very important.
How Do Outdoor Rugs Dry?
Since most rugs are made from tightly woven polypropylene or other synthetic fibers that do not absorb water, excess moisture can dry up quickly.
Rugs made from synthetics are very absorbent so they do not need to be taken care of as much as wool or other rugs, like cotton or silk. Synthetics help in the fight against moisture and mold so you don't need to be careful about which areas of your home receive a lot of moisture.
Can You Leave Outdoor Rugs Outside?
For your outdoor rug to look good and last well, you must be careful in choosing the right rug that will suit the different environmental conditions. For example, it is worth your while to choose outdoor rugs that are durable and hardwearing. You should check out outdoor rugs of high quality that will not fade or crack over a period of time.
How Do You Keep Outdoor Rugs From Mildewing?
When we say 'mildewing,' we refer to the growth of mold on the fiber surface. The key to keeping rugs free from mildew and mildew growth is to wash your rugs regularly. Once your outdoor rug is clean and completely dry with the help of sunlight, it will be able to resist mildewing much better.
Can You Wash An Outdoor Rug In The Washing Machine?
Most outdoor rugs can be washed in the washing machine. If they're made of synthetic fibers, you can throw them in the wash with towels and wash them in water. Be careful about washing rugs with a rubber-back, because washing these rug types too often, may result in tearing the rubber part of the rug.
Frequently Asked Questions:
Should I Scotchgard my outdoor rug?
Yes, you can Scotchgard your outdoor rugs. Scotchgard is a powerful protective chemical that prevents stains from forming in your rug. Scotchgard will stop the spread of pet dander, urine, stool, and other foreign matter onto your rug.
Can you vacuum outdoor rugs?
Sure, you can vacuum an outdoor rug. Regular vacuuming of the outdoor rug is the best way to keep your outdoor rug clean and looking fresh. Prominently visible and loose dirt should be regularly vacuumed with a strong suction vacuum cleaner. Do not use a beater bar or cycle brush because they are just designed to remove wet dirt and not dirt that has dried up.
Can you pressure wash Outdoor Rugs?
Pressure washing an outdoor rug is one of the best ways to keep it looking great for longer. Pressure washing rugs remove dirt and grime that build up over time. Cleaned outdoor rugs are a great way to maintain the appearance of your home or office.
Conclusion
An essential property of the outdoor rug should be able to dry quickly. Consider the current conditions and weather: if the weather is rainy, humid or cold, then the rug will take a little longer to dry. However, if the temperature is hot and dry, then it will dry quickly. 
Always choose the most breathable and lightweight rug possible so as to dry quickly.