What Is The Difference Between Indoor And Outdoor Rugs? [Quick Comparison]
If you are considering buying an indoor or outdoor rug, it can be hard to know what the real differences are. In this article, you'll find out what they are.
Differences
Material
The main difference between an outdoor rug and an indoor rug is the material type. Indoor rugs are much softer than outdoor rugs. Indoor rugs are made out of material that is hard to wash and care for. 
Texture
Indoor rugs are generally warmer than outdoor rugs. This makes them better for inside settings, like hallways and garages. Outdoor rugs, on the other hand, are perfect for patios, terraces and gardens. Indoor rugs are used more often and tend to be more expensive than their outdoor counterparts.
Comfort
These indoor rugs are often made to give you more comfort than outdoor rugs. Indoor rugs are also more expensive as they are made from fine material.
Durability
Outdoor rugs are constructed using durable synthetic materials which can withstand both high traffic areas and outdoor weather conditions. Moreover, they can take all the wear and tear and still will not be damaged. 
Outdoor rugs are more resistant to stains, spillage, UV rays, mud, dust, humidity, and rain. 
Outdoor rugs are made of synthetic materials like acrylic, nylon, polyester, and polypropylene. These types of outdoor rugs are popular because of their durability and affordability.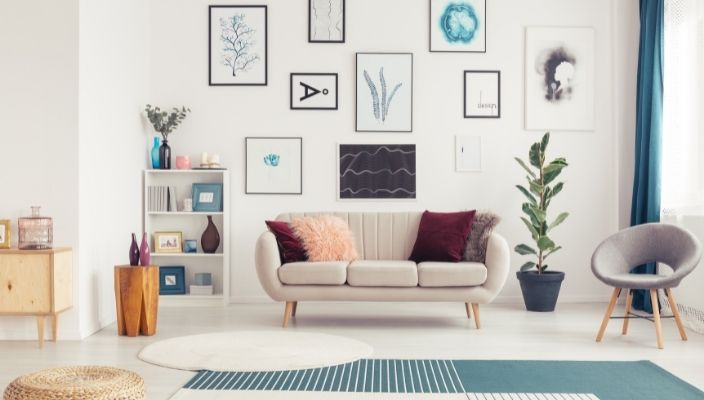 Similarities
You can compare and contrast two things by pointing out their similarities and differences.
Size
Some of these larger rugs are available in custom sizes, although most are only offered in standard sizes. To determine the size you need, measure the area you wish to cover. If you have a few front legs of furniture or a coffee table on the rug, it should be large enough for your needs.
Easy Cleaning
These indoor/outdoor rugs are made from polypropylene synthetic fibers to resist moisture, stains and fading. Just spot-clean with mild soap and water and then hang to dry. (If your rug has larger stains, you can fill a spray bottle with vinegar or warm water and mist large stains. Allow it to dry, then vacuum.) You can also lay them over your outdoor furniture for quick drying.
Rug Pad
I recommend purchasing a rug pad to help protect your floor. It will prolong the life of the rug and help with wear and tear.
Indoor/Outdoor Style
Rugs are by far one of the most versatile pieces of furniture out there. There is something that a rug can do for every room in your house and they are a great way to add some much-needed color and style to any room.
Can You Use Indoor Rugs Outside?
The answer to whether an indoor rug is suitable for use outside depends on several factors including the type of rug, construction, and care it requires. Indoor rugs come in a variety of styles, colors, and materials. Construction determines the durability of the rugs and the actual lifespan of the rugs if it is exposed to several environmental conditions. Generally, the indoor rugs are designed to give you comfort and can not survive the outdoor extreme environmental conditions like rain, hot sun, or humidity. They tend to lose their texture, color, and overall appearance if kept outside for a longer time. So, it is advisable not to use indoor rugs outside.
Can Outdoor Rugs Go Indoors?
Outdoor rugs are rough and generally do not give much comfort to your barefoot for which indoor rugs are meant to be. So, it is always better to use indoor rugs indoors and outdoor rugs outdoors. But if you are willing to put your outdoor rug indoors then the rug will not get affected and will stay in good condition as long as you keep it maintained.
What Makes A Rug An Outdoor Rug?
A rug can be called an outdoor rug if it surpasses all the environmental conditions. If it remains stable even in the harsh outdoor environment like rain, humidity, mist, spillage, stains, and dust particles. These kinds of rugs will not fade out soon in the hot sun. It will not lose its color or texture if it gets stained. Outdoor rugs can be kept outdoor throughout the year, throughout all the seasons. It will be resistant to extreme dust and weather conditions.
Are Indoor Rugs Good For The Kitchen?
Yes, indoor rugs are good for the kitchen, provided you take proper care as per the instructions provided by the rug manufacturer. 
Tips For Maintaining Outdoor Rugs
Even though the outdoor rugs can be kept outside 24*7, you still need to take care of them to maintain them in good condition for a longer time. 
We are providing a few tips about maintaining outdoor rugs to keep them beautiful and vibrant for a longer duration.
1. Protect Against Mildewing
The mildewing is a common cause of worry for outdoor rugs as they have to face water and humidity. If outdoor rugs are left wet for a long duration they may develop mildewing. So, it is advised to dry it often in the bright sun whenever you feel like it is wet or damp. The rug material does not cause the mildewing to grow but the dust and water particles can suffer rug with mildewing. 
2. Protect Against Heavy Rain
Usually, rugs can stand in the mild to moderate rain but if it is stormy and raining heavily outside, it is better to fold them and keep them indoors.
3. Protect It Against Damage
Heavy furniture lying on the outdoor rugs may damage it. So, it is good to use protectors to avoid direct contact of harsh furniture surfaces to the outdoor rugs.
Conclusion
There is a vast difference in the quality between indoor and outdoor rugs. From weather-proofing to durability, outdoor rugs are the best suited for outdoor conditions.
Indoor rugs are made of different materials and are focused on giving more comfort to you. Most indoor rugs can not be used outdoors because they may get ruined due to outdoor conditions.