Outdoor Showers: Pipe Sizes, Material, and Things To Keep In Mind
When designing the outdoor area of your home you need to plan for a few important items. You need a pool, outdoor kitchen and of course an outdoor shower. This guide will walk you through the design considerations and how to make sure you have all the right parts to complete the job. One question you may have is "What size of Pipe for outdoor shower?"
The typical shower arms have a standard 1/2″ male pipe thread and for the shower heads a 1/2″ female pipe thread is the usual.
You do not need to worry about whether the showerhead will fit the shower elbow or not. Because a shower elbow has a standard size, and different showerheads are designed as per the standard, irrespective of their style material or the type.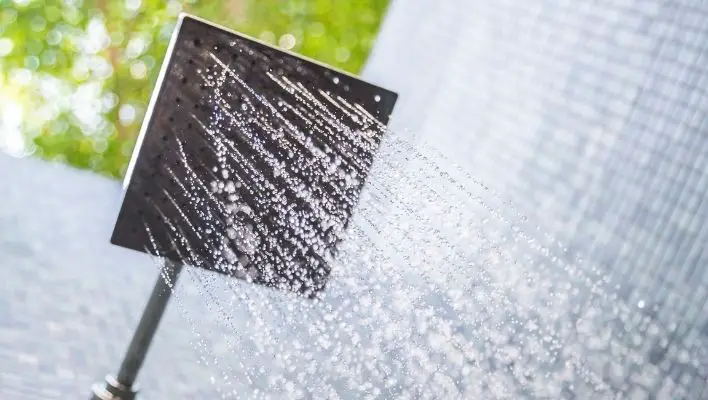 What Metal Is Best For Outdoor Showers?
If you are purchasing outdoor shower fixtures, stainless steel is a popular choice because it is one of the most durable materials. Stainless steel has been around since the mid-19th century, and over the years, it has undergone several improvements that have made it more durable and resistant to corrosion.

Stainless steel showers also contain a high amount of chromium. And resist stains and corrosion on the surface of outdoor showers when it comes in contact with water.
Do You Need A Drain For An Outdoor Shower?
Yes, your outdoor shower always needs a drain. However, it may not need to be a complex one like the one you have at your home internal piping. Rather than buying a complicated drain for this, there is actually an easier way — just start with a garden hose that can fit through the same type of fitting as the shower.
What Size Pipe For Outdoor Shower Drainage?
2 inch pipe size for outdoor shower drainage is one of the perfect pipe sizes that will work best for you. A 2-inch drain pipe is usually a little bit too big (for most cases), but if it fits your needs and space, then it's perfect! If you are looking to make an outdoor shower, then this pipe size will be ideal for you.
Things To Keep In Mind When Designing An Outdoor Shower
One of the most common upgrades to new construction is the addition of an outdoor shower. Whether you are planning to install the water feature into your home or are simply looking to add a little splash of personality to your property, adding a shower system can extend the capabilities of your home and create an overall more stylish experience. 
Adding a shower system to your outdoor spaces can enhance the aesthetic appeal of your property. But while installing an outdoor shower system, you need to look after a few things to make the installation accessible, usable, and comfortable.
1. Location And Water Supply
While planning an outdoor shower, it is crucial to understand the location and availability of water supply. But choosing the proper place for your outdoor shower is critical. Here we are guiding you through what areas you should consider while installing an outdoor shower system.
In case you want to extend the indoor hot water system for outdoor usage. Then you can choose a wall next to it to fix the shower. Plumbing will be easy as the hot, and cold water supply is ready to use.
Suppose if you want to locate an outdoor shower far from home. Then choose the place that is open to sunlight. Open to sunlight places will help you keep the area fresh, dry, and free from mold. But one thing you need to take care of while planning outdoor showers far from your home is the budget. You will need some extra expenses for plumbing and hot water arrangement for your outdoor shower system.
2. Drainage System
Having a proper drainage system for an outdoor shower is crucial. There are several ways to design the drainage system, and while planning your outdoor shower, you can consider these at your convenience.
3. Having Pebbles Drainage System In The Outdoor Shower Area
The pebbles can act as a natural drainage system for your outdoor shower. It is a popular option to use small rocks and pebbles as a shower floor. Because it allows water to drain out naturally under the soil.
Privacy
Privacy is the crucial factor that outdoor shower users should consider before selecting a location. You may always construct shower housing to obstruct viewing. Be sure to take advantage of any existing features your yard may already offer, such as natural rock walls that may be extended or additional exterior structures you plan on adding, like pool houses or garden sheds. 
How Do You Clean An Outside Shower?
Cleaning an outdoor shower is an essential thing to do. Since it is open to the environment, and water the area needs frequent cleaning with proper cleaning agents. You will need to clean outdoor showers the way, clean indoor ones. First, sweep away dirt so that the pipe will not get clogged. Then clean the floors by scrubbing with steel scrub, clean the shower fixtures and the area around it.
With proper and regular cleaning, your outdoor shower area will remain safe from mold growth, and the fixtures will stay corrosion-free. 
How Big Should An Outdoor Shower Be?
In a typical shower, the minimum space required for an outdoor shower is 3 sq. ft. However, you can go larger if you can. A shower enclosure measuring 4 feet square offers a generous amount of elbow room. You can also consider having an attached dressing area in the shower enclosure. In that case, you will need an extension of 3 sq. ft. to the shower area. In total, you will need a 7-ft longer & 4-ft-wider area to build a shower with a dressing room.
Are Outdoor Showers Expensive?
Outdoor showers do not need to be expensive. If you build a simple shower system, it will not cost you much. 
Frequently Asked Questions
Are all shower pipes the same size?
Yes, all shower pipes are the same size as per standard, and that is ½ inch NPT.
What is the standard shower head pipe size?
The standard shower head pipe size is ½" NPT male thread.
How do I increase water pressure in my outdoor shower pipes?
Sometimes the pipe becomes clogged, and the water pressure lowers down. Cleaning pipes and clearing the clogs can help increase the water pressure in your pipes.
Will bigger pipes increase water pressure in my shower?
Yes, bigger pipes will increase the water pressure in your shower provided the water pressure in the mainline is good enough.
Conclusion
The pipe size for your outdoor shower will be ½ inch NPT, and it is standardized throughout the country. Any kind of shower head, irrespective of its size, shape, or type, will fit in the elbow of your shower pipe, so no need to worry about anything while shopping for the kind of shower head that suits your outdoor decor.
Stainless steel is the best material you should go with if you are looking for the best durability.