Can You Put Outdoor Rugs on Grass? (Useful Grass Alternatives)
Some outdoor rugs are so beautiful they seem too good to be placed on a patio or in your garden. But can you put outdoor rugs on grass or outdoor rugs on a patio? In this article I'll answer this question and many more.
Outdoor rugs can add color and practicality to your yard or patio, but some of them lack the features to protect the grass underneath. To ensure your outdoor rug does not harm the grass, it is important to select one that is not only made of durable material but also has enough airflow to release the moisture that collects underneath.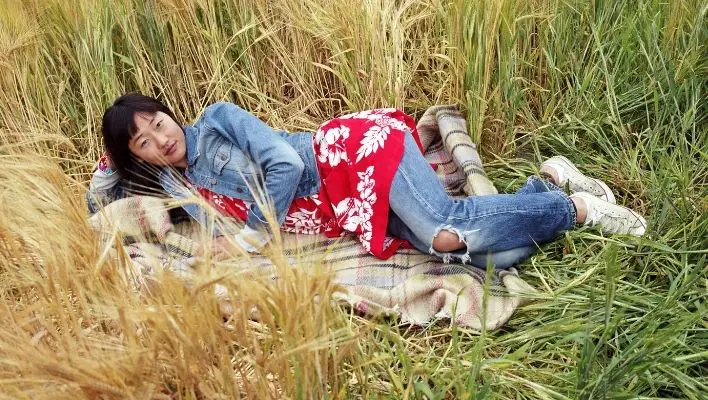 How Long Can It Stay In The Grass Without The Grass Dying?
As long as you use breathable outdoor rugs, it will not ruin the grass. It helps with better airflow and ventilation to keep your grass alive. So, you can use it forever without the grass dying. 
Can The Grass Ruin Your Outdoor Rug?
The grass may ruin your outdoor rug. To keep your rug in well and good condition, take simple steps to prevent damage to the rug due to the grass. Generally, too many footsteps can ruin the rug spread over outdoor grass. So, it is advisable to put the rug on the grass where there is comparatively less footfall.  Outgrown grass also can ruin the rug, so, have someone who can regularly mow the lawn. It's important to keep the grass safe from being trampled so that it can last longer.
What Do You Put Under An Outdoor Rug?
If you are concerned about damage to your outdoor rug, you could install a rug pad underneath the rug. A rug pad is made of rubber or other material which will not flip over when you walk on it. If you have decided to install a rug pad then make sure you get a rug pad made from thick comfort material. It will keep the fabric in place and offer comfort as well as durability so that it will last longer. 
How To Select An Outdoor Rug?
There are more chances that your outdoor rug will get dirty if used on grass and also it may not withstand the outside environment. But if you make a wise choice while selecting the material of the Rug, it will last longer in good condition.
Here we are providing few tips on how to choose an outdoor rug
Always choose a good material like breathable PVC-coated polyester with mesh
Select UV protected Rugs to withstand sun damage
Chose the material that is easy to clean with soap and water
In case if you want to use it for a while and then want to keep it in packed condition then prefer the outdoor rugs with zipper -bag for easy storage.
Grass Alternative For Your Backyard
If you want to have other grass alternatives for your backyard to make it beautiful, you can check with the following options. These are low maintenance as well as cost-effective.
Gravel
Gravel is an inexpensive ground cover that can beautify your yard. They can range in color and size, allowing you to make a personal statement. This grass alternative needs less attention and care comparatively.
Moss
If you have a shaded area in your yard,  with a hard-to-maintain lawn, or want to turn an unattractive area into something more useful, moss is the perfect product for you. There are certain varieties of moss that look like grass and are easy to install.
Wood Chips or Bark
There are many benefits of using wood chips or bark as a Lawn Alternative including being easy to care for, attractive, and affordable.
Mulch
Whether you're looking to add color or character to your landscaping or you want a simple way to limit weeds, mulch is an attractive, low-cost alternative to grass. Invite Mulch into your yard and it will surely make your yard stand out.
Conclusion
When it comes to outdoor rugs, you might be wondering if you can put them on grass. The answer to this question is yes, off-course you can. As long as you choose a rug that is designed to be used outdoors and is made of a breathable material, you should be able to put it on grass and not worry about your lawn.